that is my questions for you peeps.
Here's my dilemma.
We have this one wall in our kitchen and it really has no purpose. We didn't put cabinets on that side for two reasons - 1. we were basically out of money from having just gutted the kitchen and putting cabinets everywhere else...and 2. we weren't sure if we were going to maybe knock that wall out and open the kitchen to the living room. (please excuse the Diego Rescue Backpack in the lower right of the photo AND the tools all over the stove. They are not, in fact, supposed to be there but the hubby and the 3 yr old seem to use this part of my kitchen as a "catch all" dumping ground. )
SO I just made do. The stove is an old Chambers that was in the house when we bought it. It probably still works although it isn't hooked up to anything right now. We just moved it over there b/c I thought it was cool and old and I didn't want to part with it. I store water bottles and capri suns in it now! Anyway - I don't really want to get rid of it yet BUT, truth is, I could use more storage in the kitchen. And it is kinda taking up a large amount of room without a large amount of function. Not a good combo.
Now - for reference - here is picture of our other side of the kitchen - so you can get a feel for the color of the cabinets, etc.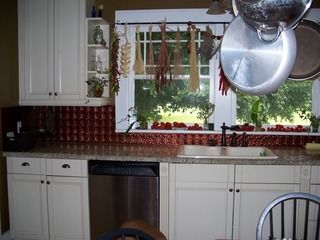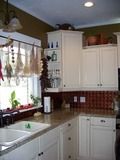 I *tried* resizing 3 times - no idea what is going on here - but you get the idea of what the kitchen looks like.
Here's what I'm wondering. We have this China cabinet in our dining room - the dining room that is currently under Re-DO. This was part of the dining room set that hubby's dad gave us. We didn't buy it or pick it out - it was a freebie.
We already *have* a china cabinet in the dining room that is built in and original to the home. You can see it in these pictures.
Original leaded glass. *swoon* I love this cabinet.
Point is I don't need two. It is cluttering up the space. And it is big and dark. And ...well...I just don' t love it. BUT it was given to us by hubby's father. This was hubby's parent's dining room furniture.
So do I take the doors off, paint it the same creamy color as the existing cabinets, and move it into the kitchen - it could hold my dishes and I could put baskets in the bottom (where the doors are now) and use it for storage. OR should we leave it as is? If we leave it alone it is going to the basement to be stored.
*sigh*
Obviously I'm on the side of painting it and USING it. Hubby is afraid we'll "ruin" it if we paint it. I told him I would rather be using it and loving it instead of having it languish away in storage. I don't know. I need opinions!