First of all; a confession.
I bought this little stool four years ago when I was pregnant with Max.
Now, I know what you're thinking...Isn't it a little bit girlie to be in a boys room? Well, yes. But here's the part where I tell you that during my first u/s at 16 wks they told me that he was a she.
And then I went shopping.
And I bought this little quilt covered stool for her room for $5.
Cut to 3 1/2 weeks later and my next u/s and OOPS - he was VERY obviously all boy.
So this little stool went to live in our basement.
I still liked it though and wouldn't part with it.
Yesterday I was shopping (read perusing thrift stores and Goodwill) and stopped by the fabric store. While I was browsing in the remnant section I saw a piece of fabric and INSPIRATION struck.
I picked up 3/4 of a yard for less than $3.
And I came home and did this
*swooooooon*
I'm in love with this fabric.
Here is Max posing with the dressed UP stool.
I love this.
And this is where she is going to live now.
In the hall bathroom.
Everything in here is still original to the house. I haven't done anything except paint the walls and give the cabinets a fresh coat of Semi-Gloss White.
I think it's a perfect fit.
Although now I'm toying with the idea of adding a short, pleated skirt...
more than likely...to be continued....
I'm linkin up to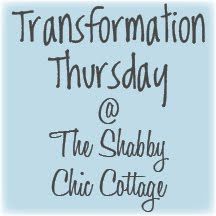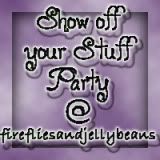 Spotlight Yourself at
ISVC
!
100 ideas under $100 at
Beyond the Picket Fence
I'm going to be having a GIVEAWAY very soon. As soon as I hit 50 followers I'll be posting a giveaway of some really unique, hand-stamped jewelry. Check back SOON!!!!